Strong Bond with the Business
Incentive compensation plans can create a strong bond between the business strategy, annual and long-term performance expectations, and compensation reward opportunities. They also attract, motivate & retain the right talent in this highly competitive environment for exceptional talent. Consequently, it is critical to utilize a consultant that understands this delicate balance and can construct the best programs for your company.
How has the company performed historically compared to the industry? Where is it performing above or below the norm?
What are the performance expectations going forward (both shareholder & company viewpoint)? Where might the company's valuation be if the financial plan is achieved?
What is the business strategy for achieving performance expectations? Which performance measures would best reflect the achievement of strategic milestones?
Are there issues with the current performance measures used? Do they capture the key drivers of value creation?
Is the goal setting process too tough or too easy?
Which behaviors are necessary for achieving high performance?
Which performance measures best reflect the key behaviors?
What role should the Board play in defining performance and linking it to pay?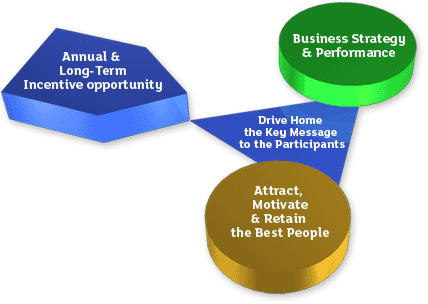 Other Considerations

Optics to employees, investors,
Wall Street, & the public
Costs
Simplicity
Communication
Tax & Legal
How well the company's current compensation programs worked? Do managers understand and appreciate the full value of their compensation package? Do shareholders appreciate and reward the company for the compensation programs?
Is there a historical relationship between pay and performance? Can we improve the performance to pay relationship?
Do the compensation programs support the business strategy and drive home its key messages?
What will really work best for us, given our business strategy, business cycle, investor expectations, and company culture?
What is a market competitive level of incentive?
What type of compensation programs are used at other companies and why? Are companies trending toward a different model?
Can the compensation programs be more cost efficient?
Why are executives attracted to the company?
Why is turnover at current levels, and what are expected hiring needs? Who are the top performers?